Totani's new Data Communication System allows customers to track machine performance!
Pouch machines integrated with Totani Data Communication System(DCS) will depict information such as: operating conditions, alarm codes, temperature changes, and etc, on a customer server. Customers now have the ability to investigate the cause of machine faults and conduct Trend Analysis when necessary.
Considering how customers interpret and analyze pouch production, Totani feels it necessary to begin offering our customers the ability to manage machine data. This new Data Communication System tracks performance and provides the ability to accurately measure KPI's.
Totani's vision is to allow customers to not only manage the pouch making machine's operating data, but to enhance product control, quality control, remote maintenance and trouble shooting. Remote diagnostics, maintenance, & trouble shooting is on the way. Please contact us for additional information.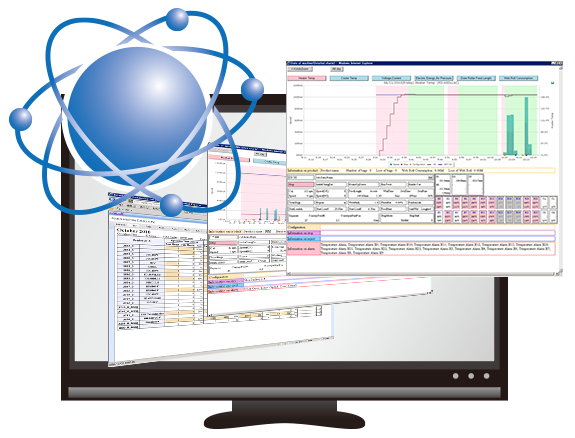 Summary of Totani Data Communication System(DCS)

Centralized management is possible for pouch making machines

Centralized management is possible to see all Totani made pouch making machine's running condition.

Mass data can be stored

Able to run the machine efficiently by storing data of the productivity of the pouches, machine's running speed, pouch making conditions, etc..

Traceability

Storing pouch making conditions will enable to indentify in which condition made the good quality pouches and poor quality pouches.

Customize

Enable to customize depending on the customer's productivity and management structure.

"Totani Data Communication System(DCS)" What data can be managed?

Storing all data on the pouch making machine screen.

Storing various data necessary for product control.

Running speed, shots, total shots, film consumption, repeat length, mark pitch, heater temperature, running record, running condition, alarm such as machine stop, change in pouch making condition and failure exclusion will all be all stored.

Able to check all the pouch making machine's running data from year, month and day.

Stores up to several years of data (*) enabling to refer when the inferior pouches have been produced at anytime.
(*)Depends on the capacity of the hard disk for the server.

Merit of introducing Data Communication System for Totani's pouch making machine

Improve quality and ensure consistent quality

Storing data of alarms and machine stop enables to trace down the cause of the trouble immediately.

Efficient way of running the pouch making machine.

Storing data of productivity and running speed will be useful as an observing tool for all managers. Also storing the best running data, enables to repeat the same pouch making condition.(we are in process to build a system which enables to select a specific data and run the machine.

Improves the maintenance cost.

Enables to predict when a part should be replaced from the running data and condition, creating a proper maintenance cycle, leading to reduce in maintenance cost.

Developing business management.

Including the existing facility, it would be an outstanding tool to build an efficient usage of the pouch making machine (we are planning to build a system to control the lot and also for each operator to see individual productivity.)

Capable Machines: All BH/ CT/ FD/ FA/ HK / SG series (excluding the old series which uses the inverter for the up down motion)

VK/KP/ST series are not correspondent.

---

* The information on this site is subject to change without notice.